Navigating the Obstacles of High-Season Travel
Last month I wrote about the rewards of low-season travel, how travelling when the weather is not at its best can be a memorable experience and even provide surprising benefits. But, what about those who chose to travel during the high-season*, when eastern weather perfectly matches western holiday time? Some yang to compliment last month's yin.
Just as with the low-season, there are pros and cons to consider when travelling during the high season. Smiling Albino endeavors to maximise the pros and minimise, or even completely circumvent the cons for our clients where possible.
Local experience and knowledge is vital to ensure a terrific holiday.
High-season travel benefits are well known: highly predictable (relatively) cool, cloudless days, historical/cultural sites and places of interest fully open and geared-up to service the traveller with all the bells and whistles, more convenient transportation schedules, and clearer coastal waters to name a few.
The problems are less publicised. The sheer popularity of some of the world's great attractions can pose some obstacles. Those beautiful, unpopulated Angkor Wat sunrise photos you may have seen in the travel guides are either ten years old or were taken in the low-season. But don't despair! Our guides know of some pretty special locations to catch the sunrise over Angkor that others don't. Also during high-season, Bangkok's stunning Grand Palace sees 200,000 visitors daily. With our fifteen years experience handling these situations, we recommend alternative sites or attempt to guide you in during pauses in the peak visiting hours.
[Tweet "Be smart & plan how best to surf the pros and cons of high-season travel."]
There are many other ways we've discovered to avoid the crowds. Knowing of new, exceptional restaurants yet to be listed on "The 10 Best Of" travel blogs, seeking out alternative transport (a Bangkok canal boat can get you across town in 15 minutes back to your hotel to rest before dinner rather than being stuck in traffic for an hour), closing sites privately for an intimate visit on your own terms, and having strong relationships with hotels and resorts to secure rooms when it can be difficult without a personal connection.
So take it from someone who's been traveling and planning trips in Asia for nearly fifteen years – it's wise to travel smart and plan how best to surf the pros and cons of the high-season to get the most out of your travels. Contact us for any Southeast Asia travel enquiries.
Daniel B. Fraser
Smiling Albino's Adventurer-in-chief
 *In Southeast Asia, peak high-season is is generally between November 1 and the end of February. However, northern regions of Thailand along with Myanmar and Laos usually cool down a month earlier and eastern regions of Cambodia and Vietnam enjoy an extra month of cooler and drier weather into March and even April.
A D V E N T U R E   H I G H L I G H T S
Soon Dong Cave, World's Largest, Discovered in Vietnam
You'd think after a few hundred thousand years, us humans would have the Earth fully mapped out. We largely do, but it's interesting to know that there are still places – large places – that we've yet to discover.
W H A T ' S   G O I N G   O N
Thailand's Burgeoning Craft Beer Landscape
Bangkok's Food and Drink Scene has elbowed its way on to the world stage in recent years with many new award-winning restaurants, farmer's markets bursting with new artisanal produce, fancy infusing behind the bars and now, a growing craft beer industry.
Smiling Albino's Heading Down Under!

6 – 9 September 2015 Sydney, Australia
If you are joining this experiential and luxury travel event later this year in Sydney, be sure to drop by our booth for a chat. We will have our senior trip planners and new business developers there looking for new opportunities and presenting our unique products.
Regional Festival Highlights
July 2015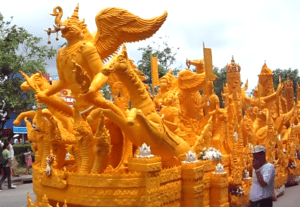 Ubon Ratchathani Candle Festival
30-31 July, Thung Si Mueang Park in Ubon Ratchathani, Thailand
Every year around the end of July, right when the seasonal monsoon rains begin, Thailand's eastern-most province of Ubon Ratchathani throws a giant block party.
This huge festival reflects the unique Thai ability to turn any simple custom into a massive festival. The traditional donation of candles to brighten monk's quarters as they go into retreat for three months at the start of Lent is now a celebrated parade of giant wax carvings. Thousands of spectators from around Thailand and the world descend on the town for the event.
January 2016 (looking ahead six months)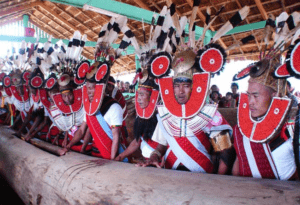 The Naga Traditional New Year Festival
January 14-16, Lahe, Naga Hills, Myanmar
The Naga New Year Festival is held in rotation in the villages of Lahe, Layshi, Hkamti and Nanyun in northwest Myanmar. The 2016 festival will be held in Lahe, a town in Naga Hills of the Sagaing Region.The Naga people form the majority ethnic group in northwestern Myanmar as well as in the neighbouring Indian state of Nagaland. The new year festival is the social highlight of the year for the Naga and involves the region's tribes gathering at the year's chosen village around large open bonfires and singing and feasting. The Naga tribes practised headhunting and preserved the heads of enemies as trophies through the 19th century, but don't worry, the last headhunting incident was in 1969.