Quick! How many countries' national flags include a building? Give up? According to our exhaustive research, there are only four – Spain, Afghanistan, Portugal, and Cambodia. Of those, only Cambodia's flag includes a specific building – the magnificent stone spires of Angkor Wat.
This little trivia tidbit is quite telling. Without a doubt, Cambodia's biggest, most important, and most profitable tourist attraction is the Khmer ruins outside of Siem Reap. And deservedly so – they are stunning, and should not be missed at any cost. But the downside of this massive tourist magnetism is that some of Cambodia's other fantastic spots get overlooked, which is a real shame. Cambodia is a beautiful country, full of friendly people, endless beauty, and important historic sites. There's much more to Cambodia beyond Angkor!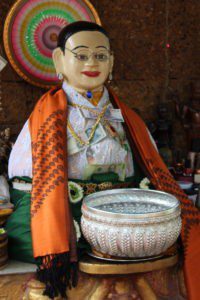 It's a bit of a no-brainer to include Phnom Penh on the list, but you might be surprised to learn how many people hop into Siem Reap, see the temples, and then hop right back out again. It's a shame, because despite being nearly wiped out by the Khmer Rouge in the 1970s, Phnom Penh is a really hip city – relatively speaking. Recent years have seen a huge increase in international restaurants (as well as the patrons to dine in them), a revitalized film industry, new clubs and discos, and a population that is eager to show visitors why their city may soon regain the glory it once had.
Not too far away from Siem Reap you'll find the huge Tonle Sap, the largest freshwater lake in Southeast Asia, that supports – nay, supplies – much of central Cambodia's agricultural output and ecological diversity – not to mention the livelihood of a good number of Cambodians. The lush rice fields that spring up during the harvest season are impressive – as are the sunsets – but the biggest draw here are the unique floating villages that dot the water. It's a great way to get some insight into the unique and hardy Cambodians whose very existence is tied to the Tonle Sap.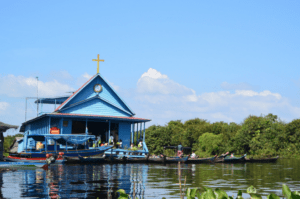 Due to a combination of luck and savvy marketing, Thailand is usually what people think of when they hear 'Asian beaches'. But they're not the only ones with miles of sand and warm water on offer! The beachside town of Sihanoukville is slowly regaining the title it once had as one of THE seaside resort towns in Southeast Asia, before decades of abuse and neglect nearly left it forgotten in the jungle. It can get crowded on weekends, sure, but there's snorkeling, great food, and plenty of sand to walk along.
The uniquely charming town of Battambang shouldn't be missed, especially since it's roughly equidistant from the Thai border and Siem Reap. Once a vital trading link for the region, it emerged as an important outpost under French rule, and still boasts some gorgeous colonial architecture. But fear not – there's also a healthy supply of ancient ruins, beautiful temples, town markets, and plenty of stunning natural vistas to keep your camera humming. We've got a great three-day trip to Battambang from Siem Reap here.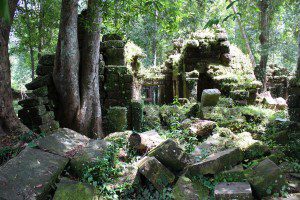 The 40km stretch of mountains where the ruins of Phnom Koulen are located rise up like the spine of a sleeping giant. It's an apt metaphor – while Angkor Wat gets the lion's share of attention, this area of the country is often overlooked. It's a shame, because the ruins here actually predate Angkor Wat by several hundred years. Much of it still overgrown by jungle, so the simple act of walking around exploring is always rewarding; for those looking for a bit more, the area has great hiking, swimming, biking, and even off-roading opportunities.
And that's just to name a few! Smiling Albino has a team on the ground in Cambodia constantly exploring and creating new adventures. Cambodia is a big, beautiful, wonderful country – contact us to help you get out there and discover it!