Photo: Cardamom Tented Camp
After the success of the Four Seasons Tented Camp in Thailand's Golden Triangle area, there appears to be a growing trend towards luxury rustic experiences in Southeast Asia – resorts in the form of exalted camping in remote locations.
Not only is the future of travel focusing on camping, an exciting new movement in eco tourism is afoot. Two of the new developments in the Cardamom Hills in Southeast Cambodia are leveraging tourism revenue as a means to help protect the forests they are situated in, involving their guests on local excursions inspecting wildlife conservation projects lead by park rangers.
We are always delighted to find meaningful travel experiences for our guests. Seeing projects like the Shinta Mani Sanctuary and the Cardamom Tented camps delivering unique responsible travel experiences, that help enrich both the traveller and local lives inspire us.
Here are the tented camping experiences we are most looking forward to: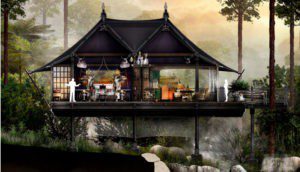 Rendering: Bensley Design Studios
Shinta Mani Wild Private Nature Sanctuary
What do you do when you are a proponent of forest preservation and wildlife protection and find one of the last remaining wildlife refuges in Southeast Asia being encroached upon by loggers and poachers? Oh, and also happen to be one of the world's leading luxury resort designers? You secure a 400 acre concession smack in the middle of the threatened wildlands and build a unique and luxurious "camp" to draw in like-minded guests to help the local inhabitants protect the land.
Bill Bensley's Shinta Mani Wild (opening in 2018) is comprised of 16 custom designed 100sqm luxury tents nested in the jungle along the banks of one of the energetic tributaries of the Sre Ambel River in Southwest Cambodia. Individual tents are designed to project what it may have been like to be on a luxury safari in the jungles of Cambodia with Jackie O' in the 1960s. The resort will offer adventurous excursions on Bensley-designed boats exploring mysterious waterways or treks with park rangers confiscating traps and checking on wildlife cameras.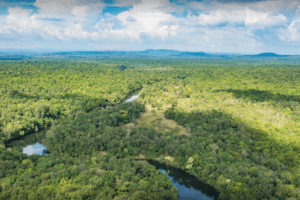 Photo: Cardamom Tented Camp
Cardamom Tented Camp
More rustic than luxurious, the still very comfortable Cardamom Tented Camp is located in a remote area of Cambodia's Botum Sakor National Park, part of a vital elephant migration corridor. Only accessible by boat and completely off the grid, this ambitious project was initiated primarily to keep an astonishingly large area of 444,490 acres of natural lowlands and mangroves out of the hands of loggers, poachers and sand miners. Guests here can enjoy hikes with local rangers and kayak excursions along the Preak Tachan river to discover exotic wildlife and learn about the delicate mangrove and rainforest ecosystems.
John Roberts, a trustee of the English Registered Charity the International Trust for Nature Conservation (www.itnc.org), Director of the Thai registered Golden Triangle Asian Elephant Foundation (www.helpingelephants.org) and Minor Group's Director of Sustainability has been involved with the project from the beginning. John details conservation progress: "By working with Wildlife Alliance we have been protecting this large concession for five years already, seeing the wildlife really come back by systematically and scientifically monitoring it. We know that we have resident dhole (Asiatic Wild Dog), sun bear, clouded leopard, sambar, hornbills, gibbons and macaques, have seen tracks of gaur, as well as significant populations of lesser known species such as the hog badger – and a few others we'd rather poachers don't know about."
Initially with nine furnished tented accommodations, each with an en-suite bathroom and a large patio area, this experience is closer to "eco-glamping" than luxury resort. The project is a three-way initiative between the Minor Group, YAANA Ventures and Wildlife Alliance with profits reinvested locally. The tented camp is set to soft open later in 2017.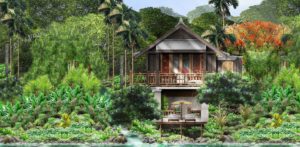 Image: Rosewood Luang Prabang
Rosewood Luang Prabang
A stylish blend of luxury and nature, the soon-to-open Rosewood Luang Prabang luxury tent and villa encampment is another enchanting Bill Bensley creation. Located ten minutes outside of the Unesco World Heritage town of Luang Prabang, the resort is situated in an untouched natural environment isolated from any other development.
The property is comprised of 22 spacious deluxe villas, garden villas, private pool villas and luxury tents with features such as open-air showers, bathtubs and living rooms, each positioned on waterways that meander through dense forest. The lure of this experience will be enjoying the surrounding natural beauty of nearby rivers, forests, waterfalls and wildlife, while not being too far from the historical and cultural center of northern Laos and all its attractions. Biking, boating and hiking excursions throughout the stunningly beautiful surrounding countryside are extra enjoyable when you have this paradise to return to.

At Smiling Albino, we've always focused on responsible and meaningful travel. These three properties differ from each other in many ways but share their unique luxury camping theme and experiential activities. They add a whole new category to Southeast Asian travel and allow our guests to be just a little more mindful, and have a deeper experience on their travels. We are excited to share these new openings with our Smiling Albino clients. Enquire about your next Southeast Asian adventure here.