Why do you travel? To do something new? For cool stories? for an interesting perspective? to have an adventure? At Smiling Albino, we believe that we can satisfy all of those desires by finding authentic experiences for our clients, however, achieving this often comes with sacrificed amenities and comforts.
Our challenge is to find a way for our luxury clients to reach deeper, be engaged by and learn about the cultures they're visiting, while still enjoying the pampering along the way. There are fantastic experiences here in the southeast Asia region, but to find them, we often have to travel far from cities and their modern infrastructure, which can make providing the extra comforts somewhat difficult.
[Tweet "This is the kind of travel that excites us!"]
About the ship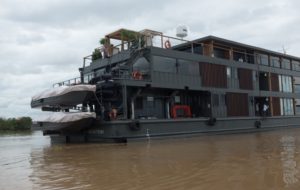 With Aqua Expeditions, we have solved that problem when it comes to exploring the Mekong River. The beautiful Aqua Mekong is a luxury live-aboard ship that sails the river from Siem Reap to Saigon and back, bringing all the amenities with them. This is the kind of travel that excites us! We like to immerse our clients into the daily life of southeast Asia while still having comfortable accommodation to return to at the end of the day for a great meal and a gratifying sleep. The Aqua Mekong brings fine cuisine, spacious suites, an infinity dipping pool and a well-appointed spa along with you – wherever you are on the river. On board, you'll lounge in a luxury hotel, disembark, and you'll be exploring rural Vietnam or Cambodia.
What is exceptionally cool about this river cruise is the side trips along the route. Four motorised skiffs that accompany the ship, whisk you off – in comfort – on mini-adventures up smaller tributaries of the main river where knowledgeable guides point out sites and scenes missed by regular boats shuttling through this region.
A Typical Day
The daily itinerary is well planned with tours of villages specializing in silk, pottery and silver cottage industries along the way. There are plenty of choices – you can even do the same visit by bicycles, or just go out for a spin around Okhna Tey Island or along the Tonle Sap River. To get even closer to local life, Kayak excursions are offered through fishing villages and small nearby creeks for those who prefer a more active trip. In the evenings you can join in on Cambodian History or River Life presentations, local cooking demonstrations, a movie in the theatre or a game of foosball. While stopping in the capital city, tour the museums and markets of Phnom Penh by tuk-tuk. We can guarantee you, there's never a dull moment, and plenty of choices for people with different tastes.
When we find great things that compliment the needs of our clients we're the first to recommend it. Having experienced the cruise ourselves, we can attest that the Aqua Mekong has all the luxury elements you crave, making it the perfect base to discover the lesser seen countryside in Cambodia and Vietnam. It's a great way to connect the capital cities and it brings a unique element of travel to round-out broader exploration in the region.
Enquire with us here about including an Aqua Mekong cruise in your travels around Southeast Asia.