Thailand is full of weird and wonderful sights. Local interpretations of Buddhism are creative and the religious monuments Thais build can be quite fantastic as they demonstrate their piety and vie for patrons. While Buddhists worship at these sites, they also double as (respectful) tourist attractions, both for locals and foreigners.
You may have heard about some of Thailand's more popular unique Wats (temples) like Chiang Rai's Wat Rong Khun (White Temple) and Si Saket's Wat Pa Maha Chedi Kaew (Temple of a Million Bottles), or even the golden statue of David Beckham at Bangkok's Wat Pariwas. But there are many other incredible Wats rich in history, art or mystery that deserve exploring.
Here is our list of (lucky number) nine slightly less-known weird and wonderful Wats that we've discovered on our adventures – all within an hour of Bangkok – that we recommend you check out if you have spare time in the capital:
This is an historic part of Bangkok as the original course of the Chaophraya River ran through this area before a shortcut canal cut off the natural flowing loop about 250 years ago. Wat Chalo was built by King Boromakot in the Ayutthaya period around 300 years ago and was used as a stop for boats coming down the river to the gulf of Siam to rest rowers and take on provisions. The new temple built in the shape of a giant ship is impressive and only now just being completed after more than 30 years of construction. It is surprising how few people know of this temple.
Hidden away in a sleepy neighbourhood accessible only by a single lane dirt road, you literally don't see Wat Sak Noi (Little Teak Tree Temple) until you're right there as it is overgrown by vegetation with a tree (not teak) growing right through it. The small temple sits in someone's front garden, but visitors are welcomed. No ones seems to know the history of this temple, but in recent years it has become a popular filming location for horror movies as seen by the weathered styrofoam props in front. It is most likely a minor temple built around the same time as nearby Wat Sak Yai.
There's a great floating market with dozens of paddle boats plying their trade attached to this temple. Make sure you come on an empty stomach, the food here is amazing. Wat Ta Khian is relatively new, so to attract people they appear to have gone big with wow factors. The original temple has a basement where worshippers enter through a tiger's mouth and circle clockwise while paying respects to various shrines. There is a statue of a mythical giant sporting an iPhone, Gucci and Ray Bans and they have recently added several five meter high transformer robots welded together from real car parts. Pretty much everywhere you turn there is a bizarre skit being played out by sculpted characters. Great for the whole family.
Wat Sangkhathan, a popular meditation centre for Buddhists, is located in a cool, shady forest. Its most unique feature is the large octagonal glass Ordination Hall which houses the Luang Por (venerable father). From inside, huge and colourful stained glass style murals can be admired. There are several beautiful and elaborately carved wooden buildings scattered around the grounds, but the highlight is the large wooden structure at the back of the site that is held up by dozens of intricately carved pillars made from solid tree trunks. Each pillar is a piece of art unto itself depicting famous scenes from around the world (including New York City's World Trade Center buildings on 9/11).
We classify this as a temple although it's really a magnificent masterpiece of art. Not to be confused with Bangkok's popular Erawan Shrine, the incredible Erawan Museum is a 44 metre tall, 250 ton three-headed Bronze elephant. Entering the interior of the massive statue, you'll pass through the Hindu representation of the universe, beginning in the underworld (1st floor), earth (2nd floor) and Heaven (top floor). The lower two floors are located inside the pedestal and have a mesmerising stained glass roof by the late German artist, Jakob Schwarzkopf, while the spiritual top floor is located in the body of the elephant. Throughout the psychedelic tour are displays of antiquities and priceless religious objects belonging to Khun Lek Viriyapant who built the museum.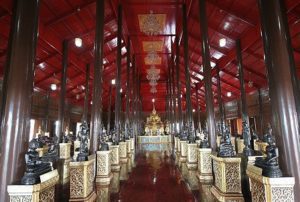 6  Wat Krathum Sua Pla, Bangkok
Sometimes referred to as the Tiger God Temple because of a unique statue of a Buddha with a tiger head, this sprawling temple in eastern Bangkok offers several surprising discoveries waaay off the beaten path, worth the journey if you come by boat or canal-side bike paths or on your way to Suvarnabhumi airport. Hidden at the back of the main temple there is a colourful three-dimensional wall mural of dragons which is very photogenic on a sunny day just after noon. But the highlight of this temple is the "80 Poses of Buddha Museum" housed in a grand wooden temple. If you are interested in Buddhism then you will love this place. There are bilingual signs explaining each of the golden Buddha image poses.
This temple was founded in the early 1980s on land that turned out to be the resting ground of millions of million-year-old fossilized oysters, 70 kilometers from today's coastline. On discovering and digging up these shells, temple founder Luang Por Thong Gleung Soontharo decided to build a chedi out of them them to mark the temple entrance. With so many shells left over (they are still digging them up) he decided to build a second and third chedi in different styles. The temple grounds also houses a bizarre collection of art, antiques, old utensils, jars, pottery, engraved wood, calculators, fax machines and so much more for your curious perusal.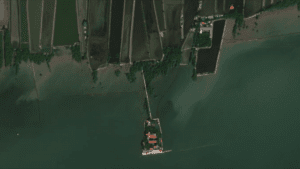 8  Wat Khun Samut Trawat, Samut Prakan
30 kilometers south of Bangkok, Khun Samut Jeen village has been forced to retreat inland from the eroding coastline leaving its temple to fight the sea on its own, accompanied only by a row of telephone poles sticking forlornly out of the ocean. It is estimated the sea has reclaimed over a kilometer of land in the last 30 years, both from rising sea levels and excessive pumping of groundwater by local shrimp farms. Connected by a raised path to the mainland, the temple consists of a 100 year-old ordination hall which stands partly underwater at high tide and a newer Chinese temple raised a meter above the old temple grounds. A Buddha statue faces the Gulf of Thailand with two palms raised in the hopes of repelling the ocean.
Lastly, not really a temple, The Shrine Of Goddess Tubtim is located right in the middle of Bangkok. Better known as the Phallic Shrine, this shrine honours Chao Mae Tubtim, a female fertility spirit. Nai Lert, the original property owner, built a spirit house for the spirit who was believed to reside in the giant fig tree. Over time, women began to visit this shrine when they wished to conceive, and when successful, returned with an offering, a garland of flowers or a phallus which they added to the growing collection. There are literally hundreds – from small carved wooden ones to three meter tall stone sculptures. These phalluses ('lingams') derive their symbolism from the Hindu god Shiva. "The shrine is one of the best examples of intentional phallic architecture in the world" – Wikipedia.