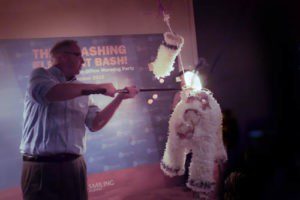 As we begin 2016, Smiling Albino celebrates 15 successful years of pioneering luxury and adventure travel in Southeast Asia. It has been a lot of fun and we cherish all the new friends we've made, as well as all the fabulous experiences and achievements.
The last quarter of 2015 was been a busy time for the Smiling Albino team with our operations expanding, most notably in Cambodia, Vietnam, Myanmar and Thailand. We've grown substantially during the last year and the time finally came to move into larger offices. This of course provided us with a great excuse to have a party. And what a party! Many of our business partners and friends joined us in celebration, some flying in from as far away as Hanoi and even Calgary. The highlight was undoubtedly the Canadian Ambassador to Thailand, H.E. Philip Calvert, wielding a hockey stick and bashing a giant albino elephant piñata full of ping pong balls with prizes.
Later in the week, after the empty Champagne bottles were swept up, we had a local religious ceremony to bless the new office. As is buddhist tradition, we invited nine monks in to chant prayers and sprinkle holy water around for a Tamboon Keun Baan Mai, as it's known in Thai, an important ceremony that coincides with building a new house or moving into a new office. The staff prepared gifts and food to offer the monks. Closing the ceremony, the senior monk used a pas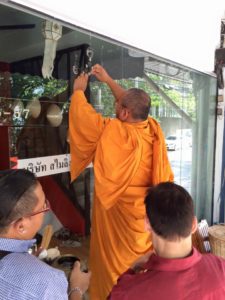 te created during the prayers to paint a blessing known as a yantra above the main doorway to keep the office free of evil spirits.
As some extra insurance, we had the monks bless our new fleet of mountain bikes we use for our Bangkok cycling adventures.
There is lots of room on the three floors of the new space for planned growth in the near future! Thank you for being a part of our success!
Please note our new office details:
55, 57 Ramkhamhaeng Rd. Soi 24 Yeak 34 (ABAC Huamark)
Huamark, Bangkapi, Bangkok 10240, Thailand
Tel: +662-107-2540–3