Now more than ever, we will think not only how we travel, but why we travel.
The reason behind why we travel is not a question, but a purpose to us.
Our purpose is to enrich the lives of everyone we interact with. "Everyone" being our guests, our team members, partners and stakeholders, and people we meet along our travels. What's even more important is that we are enriched by those we interact with.
The adventures we design for our guests reflect our belief in learning from the world around us to make us all better people.
The Why is our purpose, our cause, our belief. The cool things we get to do are the results. Happy and repeat guests are the proof.
Knowing and conveying why we do what we do ensures we create great adventures. We work with people that believe what we believe.
Our teams do what we do better than the rest because we all share the same belief. We find ourselves working alongside other inspired individuals. An inspiration that crosses borders and cultures.
We all share a mutual need to constantly find the perfect hidden pathway, secret lake, or sunset surprise beer location! The need to deliver the ultimate experience.
Practice in Action, Connections in Northern Thailand
A great example of this is illustrated by Smiling Albino's close relationship with a remote hill tribe in the Mae Ai district of Chiang Rai. Home to a pair of our northern Thailand guides, our team understands the local needs and challenges of the region.
It is nearby a riverside resort at a traditional Lahu hilltribe village that Smiling Albino has grown a strong relationship. Partnering with the village, Smiling Albino initiated community projects financed and physically built by both us and our guests.
The first year we constructed a road up to their hilltop temple that was difficult for their elders to access in the wet season. The next year we built a community platform that is now used for sports and trading produce. A valuable dividend is that the village welcomes our guests into their homes for a rare insight into an authentic tribal community.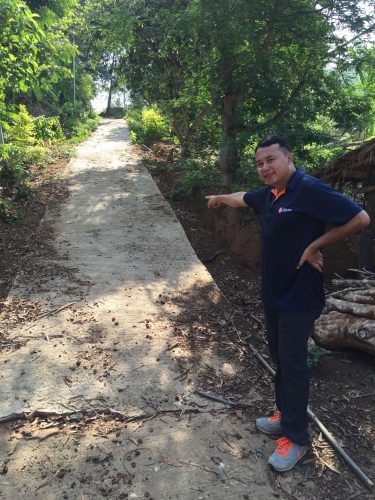 Digging Deeper
Smiling Albino has also recently added a stop at the Lahu capital village, on the Myanmar border, to a scenic transfer from Chiang Mai to Chiang Rai. After a walk through the settlement, meeting residents and learning about their social structure, arts, crafts, music and local beliefs, the villagers prepare an incredible lunch out of ingredients and utensils foraged from the jungle. Besides creating a memorable experience out of an otherwise uneventful land transfer, the villagers benefit and are encouraged to preserve their traditions.
With non-invasive local interactions like these, everybody comes away with something beneficial, but mostly a better understanding of each other and a feeling of making a difference, and a lot of broad smiles along the way.
This is why we do what we do. And why we do it so well.
Our team at Smiling Albino is always looking to define the 'Why', whether it is ensuring our experiences bring benefits to all the stakeholders, to understanding what satisfies and enriches our geusts.
In this new age of travel, the Why is more important than ever as travel and local interactions have become more precious.
Contact us to discover new experiences when you feel you are ready to start planning your next travel adventure. Southeast Asia is on the road to recovery.