What can I do in Bangkok if I've already been there before?
Due to a geographical location that can only be described as 'advantageous', Bangkok is one of the world's busiest transit points, which means that even if it's not a final destination, millions of travelers each year spend a few glorious days in the City of Angels on their way to destinations further afield. Oh, and of course, there are many who keep coming back time and time again. What can we say – Bangkok is an awesome city.
Thailand's capital can aptly be compared to an onion – it reveals itself to you in layers. So if you've seen the temples, taken the cooking course, shopped at the night markets, and eaten insects, what do you do on your second, third, or fourth visit? Thankfully, even if you've been to the city before, there are still plenty of new things to see on a return visit.
If you want to get to know the city on a new level, there's no better way than to make friends with people who live there. Meetup.com is an incredible resource, and with Thais (and expats who live there) being some of the most wired people in Asia, it's no surprise that there are over a hundred groups to choose from. There are meetups dedicated to nearly every topic – drinking, acting, politics, science, movies, and many more. The meetups are usually held in local bars, pubs, or restaurants. Not only can you meet like-minded friends, but it' also a great way to get some inside info on the city from people in the know.
If you'd like a more scholarly peek into the workings of Bangkok, check out the website of the Siam Society (http://www.siam-society.org/trips/tr_index.html). Founded in 1904 with the backing of Thailand's royal family, the society promotes Thai culture through seminars, field trips, and cultural outings. We've been to more than a few of their events, and can confidently say you'll never find a group of people more excited to impart their knowledge of Thailand to those who are interested. Even if there are no events that jive with your schedule, you can always visit the society's historic HQ on Asok Road, including their library, which is well-stocked with an amazing variety of new and (very) old books and manuscripts.
If you haven't had the chance to spoil yourself, spring for a first class ticket to the movies. Bangkok is well known for its swanky upscale cinema options, which include things like reclining sofas, blankets, slippers, and food & drink options. There are plenty to choose from, but usually the best ones are in the big malls, the latest and greatest being EmQuartier.
If you want to enjoy the great outdoors within easy driving distance of Bangkok, head to Phuttamonton, about 35km west of the city. Opened in 1957 to celebrate the 2,500th anniversary of Buddhism, the park covers just under 1,000 acres and is so huge (nearly 2km on each side) that even when it's crowded, it seems empty. Lots of trees provide shade, and there's more than enough walkways to give anyone's legs a workout. Make sure to visit the marble viharn on the west side which includes 1,418 giant stone slabs inscribed with the tripitaka (roughly, the Buddhist bible) and the famous 16m tall standing Buddha in the center of the park. Pro tip: Bring a huge sack of food and a blanket, and enjoy a great picnic. Skip the alcohol though – this is, after all, a place with religious significance.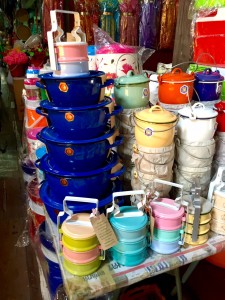 If local ancient wooden riverside markets are more your thing, a visit to Bang Pli Floating Market is worth the 30 km trip southeast of Bangkok. It's more of a canal-side market rather than a floating market but there are some vendors who ply the canal in small boats. There are also canal boat tours on offer for a dollar. One of the longest running markets near Bangkok, it was established just over a hundred and fifty years ago in 1857 by Chinese traders. Many of the shops look like they haven't changed their decor or products in the last 60 years. It's a very photogenic place with sunlight angling in through roof gaps and playing on the polished wooden floorboards. Very few tourists make it here, surprising since it's only 20 minutes away from Bangkok's main international airport, Suvanabhumi. Another highlight is "Thailand's Best Toilets" at the nearby Wat Bang Phli Yai Nai which is spacious, air-conditioned and gold-gilded.
And more food for thought… in addition to Bangkok's ever-growing world-class food and beverage venues, there are a number of pop-up social dining experiences where celebrity chefs join forces with Bangkok personalities to put on intimate dinners, with a side of conversational topics, in private residences. These are sporadic events but can be found with some internet search skills, or by talking to the right people (like us).
Believe us when we say that the list of lesser-known things to see is much longer, but these are just a few options that you may have skipped on your first visit to Bangkok. Once you get these out of your way, we can start talking about your next trip!