Cambodia's Best (mostly) Unknown Waterfront Destinations.
For a number of reasons – marketing, Leonardo DiCaprio in The Beach, geographic jackpot, and just plain luck – Thailand is what people think about when they hear Southeast Asian beaches. But if you pan that Google Map to the left… bit more… bit more… you'll see Cambodia, Southeast Asia's biggest upcoming beach destination.
When people hear Cambodia it's easy to think of its status as one of the poorest countries in Asia, the horrors of the Khmer Rouge, or the dusty roads that lead to the magnificent Khmer ruins of Angkor Wat. But in recent years tourists and enterprising Cambodians alike have woken up to the fact that, along with gems and timber, one of Cambodia's richest natural resources is its magnificent beaches.
A few – such as Sihanoukville – have been 'discovered' and (over) developed, but there remains plenty of areas where you can walk, swim, eat, drink, and relax on a stretch of sand that goes on for miles. Here are a few worth checking out:
Ko Thmei
Get here quick, because this type of bucolic isolation won't last long. From its deserted beaches you can almost see the developers on the mainland pacing back and forth, wringing their hands while they wait for the inevitable groundbreaking of the first resort. But until then, Ko Thmei offers the type of getaway that jaded travelers remember fondly over beers – wooden huts, dinners cooked on the beach, and the possibility of half the day going by without ever seeing another soul.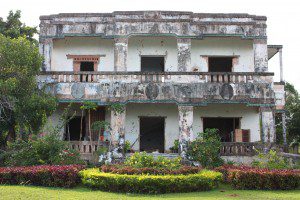 Kep
On the mainland just a short drive from Ko Thmei sits this one-syllable has-been of a town, and we say that with all love. Kep used to be the place for swanky beachside getaways from Phnom Penh before the whole shop went to hell when the Khmer Rouge showed up. These days the crumbling mansions and overgrown buildings are a reminder of an almost-was that never came, but things are getting busier every year. Kep heaves on weekends and holidays with locals who come to gorge on fresh seafood. The one notable beach is nice, the water is warm, and the town floats along at a pace that will suit even the most laid back traveler. And if Kep gets too hectic, you can head offshore to…
…Kaoh Tonsay (Rabbit Island)
Shade your eyes from the sun in Kep and you'll see Kaoh Tonsay jutting up out of the water. Putt yourself across the waves and you'll find a perfect place to get away from… well, everything… including mains electricity and hot showers. Stilted huts are the primary accommodation type here, which offer a mosquito net and a fan. What, you wanted room service? The water's warm, the food is great, and you can explore the island to your heart's content in a day. Or five, if you go at the pace we prefer – that is, in between naps, snacks, and beer.
Peam Krasaop Wildlife Sanctuary
Okay, these next two aren't really beaches but they're on the water, and each provides a unique and as-yet-unspoilt getaway from more crowded destinations. Pream Krasaop sits just a stone's throw away from the border of the Thai province of Trat. It's a swamp, to be honest, but a very important one. Nearly 240sq.km, the fragile mangrove ecosystem holds a zoo's worth of birds, fish, and shellfish, much of them visible from a fantastic elevated pathway network over a kilometer long. It's a protected area, but Cambodia is Cambodia, and the pressure from developers and big industry (including the dredging of sand, which goes to Singapore for their big projects) can't be held off forever.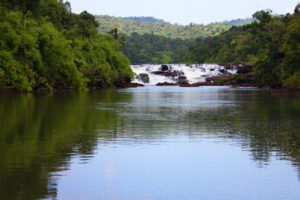 Tatai
A bit further inland from Peam Krasaop sits this jungle oasis. Most visitors come to photograph and swim in the broad, shallow waterfall and the pools at its bottom, but the natural splendor of the surrounding area – as jungle as jungle gets – can't be overlooked. Indeed, two of our favorite places to stay at are nearby; the Four Rivers Floating Lodge and the Rainbow Lodge. Both are built with a keen eye to sensitivities of the local environment, use natural products and services, and offer a fantastic way to experience this area while knowing that your visit is having as little negative impact as possible.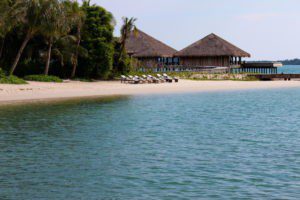 Song Saa Private Island
If you're past your beach-bumming days and are looking for something (a lot) more luxurious, the two lodges mentioned above are great retreats, as is Song Saa, a private island resort set among an archipelago of tropical islands with old-growth rainforests reaching down to white sand beaches. Not sure how they managed this, but Song Saa is the first to develop a private island while setting new standards for sustainability, community development and luxury accommodation in the still undiscovered Koh Rong Archipelago, a mere 35 minutes by speedboat from Sihanoukville.
With offices and our own team of travel specialists based in Cambodia, trained in history, geography and sustainability, we are the go-to travel planners for all your Cambodian dreams. Enquire here.