While not quite as large as Ireland, cycling the Bolaven Plateau sometimes felt like it, and while a bicycle was a little more manoeuvrable, on occasion, while climbing up a boulder-strewn dirt path or fording a wide river, the conveyance might as well have been a fridge. Our less-common choice of transport in this remote area of southern Laos did provoke some interest and initiate a few conversations; however, this is where my comparisons to Tony Hawks' adventure terminate. It just lent itself to a good blog title.
The Bolaven Plateau Loop, with several route variations, has been on intrepid motorcycle tour maps for a while now, but when the opportunity arose to join Team Dai, a keen cycling group based in Vientiane, and a few cycling friends from Bangkok, and take part in a 350 kilometre bike tour to help promote southern Laos, I was intrigued.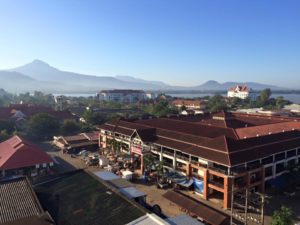 I'd visited Laos half a dozen times, but had never been south of Savannakhet and was eager to visit the area comprised of the four provinces of Salavanh, Sekong, Champask and Attapeu. The trip was initiated and partly sponsored by Tourism Laos and their agent INGO Swisscontact to support (and test on us guinea pigs) their new Southern Laos promotional campaign.
After gathering the eight peddling participants – representing seven different nations – in Pakse, we set off late-morning into the intensifying sun on the first day of our adventure. Skirting the northern edge of the plateau to Tad Lo waterfall, we gained 980 meters over 95 kilometres. It just about killed me. The mid-day stop at the very scenic Pha Suam Waterfall and the great organic restaurant with no name saved the day.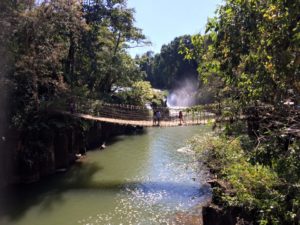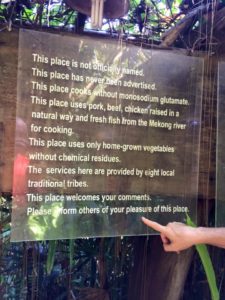 Whatever doesn't kill you, makes you stronger. The next two days were a relative breeze allowing me to focus on the enchanting surroundings rather than my straining organs.
The cycling for the most part was on decent sealed roads with gradual grades up and down. The weather was fantastic, December through February is a great time of the year in Laos when the temperatures are slightly cooler and rain is rare. We were lucky to have a cool breeze at our backs for all three days as we did a 360º loop!
Cycling around Thailand, one becomes used to avoiding the main obstacles – stray dogs. In Laos, the main obstacles were giant lurking pigs, scampering droves of piglets, chickens of all sizes and colours and unconcerned cattle wandering freely across the roads. The far outnumbered humans were friendly and a bit curious, gathering around when we stopped for food or water breaks, and extending to us what facilities they had for us to hose-down our bikes and ourselves when needed. Every kid we passed broke into a big grin and greeted us with a "Sabaidee!" and closer to the more cosmopolitan towns: "Hello! Where you go?!"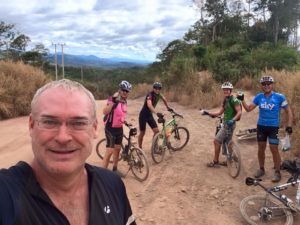 Day Two was the most technical, thereby default, the most fun. After an early morning ride into Thateng where we breakfasted on particularly good Pho noodle soup, we headed into the wilds across the northeastern forest of the plateau. The wide, well-engineered dirt road eventually petered-out into a boulder-strewn goat track as it climbed over the east edge of the plateau. The half dozen river crossings on this day were the highlights, each one quite different from the previous. Some times there were makeshift bridges of floating logs fixed together with rope, sometimes there were shallow fords. The largest river had to be crossed by a raft pushed across by enterprising women eating ice cream cones and smoking big cheroots. After 115 kilometres, we arrived in the uninspiring town of Sekong, far more exotic for its fame of being positioned on one of the deadlier sections of the Ho Chi Minh Trail.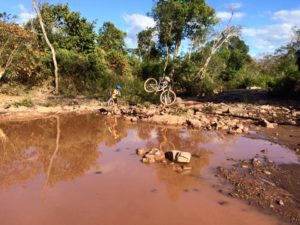 Day Three started early with a daunting 100 kilometre gradual climb up past Paksong to the spectacular 120 meter cascading Tad Fane Waterfalls. There are resorts and good restaurants at most of the scenic spots around the Bolaven Plateau, particularly the larger waterfalls, and Tad Fane was no exception. The three-day tour culminated with a thrilling one hour, 45 kilometre downhill run back to Pakse through coffee plantations. The road was in great condition (mostly) and the traffic behaved fairly well (mostly).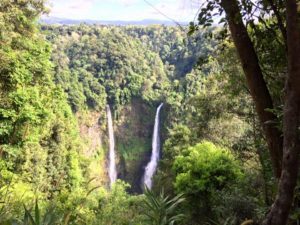 The food was great everywhere, particularly the local minced meat salads (larb), pounded long bean salads (tuk mak tua), green papaya salads (Som tam) and the Vietnamese noodle soups (pho). Oh, and the Beer Lao – probably the best beer in Southeast Asia – kept us well hydrated.
The expedition of eight cyclists was favoured, with luckily no serious casualties over three days and 350 kilometres except a broken gear cable, a couple of scrapes and a bit of heat exhaustion. Not a single flat! It was a charming trip through a less-travelled part of Southeast Asia with spectacular scenery and interesting tribal villages.
Many thanks to Tourism Laos, Swisscontact and Team Dai, many new friends were made.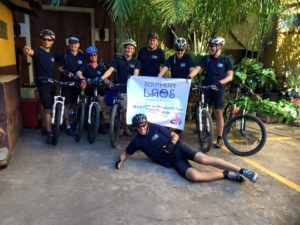 Author Andrew Clark is the Marketing Mahout at Smiling Albino. An enthusiastic cyclist in and around Bangkok, he's always on the lookout for new Southeast Asian adventures.