Smiling Albino, a Bangkok-based luxury adventure specialist, has been designing and operating bespoke itineraries in Southeast Asia for over a decade. Today the company is among the region's most respected upscale adventure operators in Thailand, Cambodia, Vietnam, Laos, Myanmar and Nepal. That success is directly proportional to having a great team.
There's a world of difference between pretty good and great. But no matter if you're talking cars, comedy or architecture, there's no all-encompassing rule that says "this is this, and that is that, period." But once you've experienced great, it's hard to go back to pretty good and not know it right away.
With that sentiment in mind, we'd like to learn a bit more about Stephanie Rowe, Smiling Albino's Director of Sales and Business Development. Stephanie came to Smiling Albino in 2012 from Toronto, Canada. She has been pushing boundaries in everything from guest relations to partnership development ever since.
Indeed, it's not everyone who can list the best hotels in a particular location off the top of her head, as well as why each one is unique, what type of guest is happiest there, and how the hotel's character fits into the jigsaw of a multi-stay trip. These fine details are part of what makes her such a prized addition to the Smiling Albino team, as well as a valuable asset for direct customers and agencies when it comes to planning Southeast Asia itineraries.
We asked Stephanie what her approach to understanding clients is, and how she motivates her team to look deeper to understand more than just the surface details.
"To design the right trip for the right person, you have to try to understand who the client is – everything from food preferences to preferred transportation to hobbies to what level of activity they prefer," she says. "Some people want clean, sleek and hip, some want barefoot luxury. The most important thing we do is find out what a client wants to get from their vacation so we can design touch points and special moments just for them."
Unsurprisingly, this is not a one-person job, which is why it's so important to ensure support staff – from the newest joiner to the most senior team leader – understands the methodology. "Investing in team projects that give staff a better insight into the culture of upcoming clients can pay huge dividends down the road," she says.
These investments at Smiling Albino cover a huge number of disparate projects, like exposing staff to western cuisine (all the better to show you where to find poutine in Bangkok!), or monthly movie nights that allows the team to study popular Hollywood movies that depict Southeast Asia through western eyes, such as The Killing Fields or The Quiet American.
"Projects like these help our team gain a bit of insight into how our clients see Southeast Asia and what they might be expecting to see, experience, or even eat – or what they won't eat! (fermented shrimp paste on fruit – No No No!)"
Vanishing Asia?
But the very fact that there are so many movies, documentaries, books, and TV shows about Southeast Asia out there might cause some to think that there is very little left that can surprise or delight those familiar with the region – or even those who have already been here. As Stephanie notes, that is not the case.
"Southeast Asia has been a popular travel destination for several decades now, but unlike parts of Europe it is constantly in transition and changing quickly. There are always new angles and new areas to explore. There are vast areas of Myanmar that are just now opening up, huge caves are still being discovered in Vietnam, and the true extent of Cambodia's Angkor civilization is only just being understood with the help of technology that didn't exist even ten years ago. Bangkok has whole new neighborhoods developing or being brought back to life by new train lines and a young generation eager for new experiences. New transportation links, and development are making remote destinations more accessible.
"Finally, the cultural fabric of each country we travel in is evolving as the pressures and possibilities of the 21st century continue to spread. So yes, we really see almost endless potential in Southeast Asia as a destination."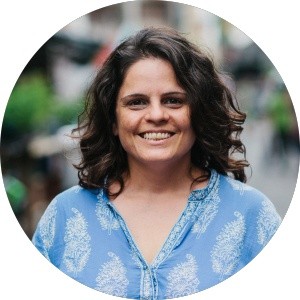 When Smiling Albino's doors opened in 2000, the company wanted to experience travel, like a local and upset the mass market, one trip for all mentality.  Since then the goal has grown and evolved somewhat, as have the methods, but one thing has stayed the same – the dedication to providing unique experiences like no other company can.
"Our clients are sophisticated explorers – luxury no longer means purely indulgence," explains Stephanie. "Our challenge is to provide our guests with comfortable, private travel while connecting them to the local culture. We excel at delivering personalized authentic experiences that leverage storytelling, amazing logistics and community immersion – all peppered with those special moments delivered at just the right time, that live forever."
Stephanie will be at PURE from September 12 to 15. If you only have time to meet one DMC for SEA, Stephanie is it. She's available for drinks if the schedule is full. Contact Smiling Albino for more details.