There are plenty of "Top 10" lists out there, usually focused on a specific topic or location. Here we've decided to take a broader view and let you in on some select secrets, our top unique food and beverage experiences from all of Smiling Albino's travel destinations. These encounters are made possible by exceptionally talented friends and suppliers on the ground who we take pride in recognizing below. They are also the adventures our inspired clients tell stories of long after they return home. Here we offer them up as a sort of Southeast Asian culinary bucket list, which we are confident, will not disappoint. Please keep them to yourselves. [winking smiley face]
Cha Ca Hanoi Plus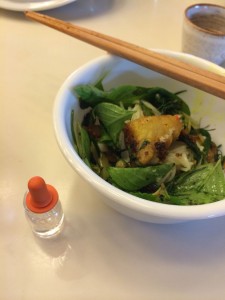 This flavourful dish made famous by the century-old Cha Ca La Vong restaurant in Hanoi has attracted attention from top international chefs who've added their own interpretations to menus from Paris to New York. However, nowhere else will you find the pure, original version but in Hanoi (with the exception of Bangkok Phuong's homemade wonder). After much publicity over the last decade, some say this establishment has become a victim of its own fame, but the dish itself is something to experience. Cha Ca Hanoi is a turmeric fried fish piled on a bed of rice noodles topped with fresh dill, spring onions, fish sauce and chilli. The secret is getting the right balance of fish, noodle, herbs and seasoning. Ask for a few drops of the fragrant cricket oil (around 50 cents a drop from an actual eyedropper!). This still little-known condiment is what elevated this culinary experience to our Top Ten list.
Soneva Kiri Treepod Dining
Imagine being a baby chick sitting in your cozy nest high in a tree far from any worries while your winged-mama glides in from the big ocean sky bringing you delicacies to feed on. Soneva Kiri's treepod dining experience is certainly unique and the exquisite cuisine and wines, flown in by your personal acrobatic waiter by zip-line, are far, far better than worms. Raised up in a woven bamboo pod to the roof of Thailand's Koh Kood ancient rainforest, diners are nourished with spectacular coastal views and gourmet delights. Very private, very romantic, very delicious. Those with fear of heights might disagree.
Sipping a Mandalay Rum-sour at The Strand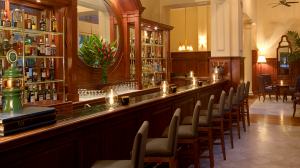 No trip to Yangon is complete without stopping in at the Sarkies Bar At The Strand for a Happy Hour Mandalay Rum Sour. The drink itself is remarkable… the atmosphere is legendary. The production of Mandalay Rum is all natural and borrows traditional cuban distilling methods. The bar – and the luxurious five-star Victorian hotel attached to it – have not changed much since opening in 1901. Luminaries from Rudyard Kipling to Sir Mick Jagger have cozied up to the bar with local businessmen, socialites, foreign correspondents, diplomats and world travellers. We often end day trips with a tipple bar-side at The Strand, and by the time you're halfway through the first cocktail, you'll feel like you are an old Burmese hand.
Breakfast in Angkor Archeological Park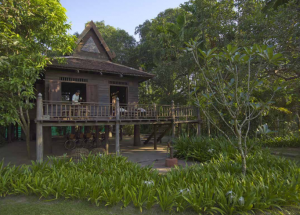 Sunrises at Angkor Wat are passé. A traditional Khmer breakfast within the Angkor Archaeological Park is in! At Amansara's Khmer Village House overlooking the 10th-century reservoir of Srah Srang, guests can gaze at nearby temple ruins or wander through vegetable and herb gardens observing the chef's selections. Traditional dishes are prepared as they have been for centuries over a charcoal grill. Try the nom ben chok, a favourite dish to start the day which is similar to a green curry over fresh homemade noodles. By the time you make your way to Angkor Wat for a leisurely survey, you'll have skillfully avoided the early morning red-eyed (and hungry) crowds.
Savoring Elephant Dung Coffee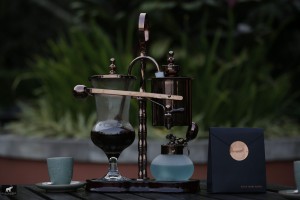 The startling process of how these hand-picked Arabica coffee cherries are passed through the digestive tracts of elephants has earned Black Ivory Coffee the reputation of being the world's rarest and most expensive brew. The short 'fermentation' brings out the sugar and infuses the fruit pulp into the bean whilst removing bitterness. The great tasting coffee comes with community and conservation benefits as well. Local villagers are paid well above average wages to harvest, gather and roast the coffee while eight per cent of the sales revenue help fund the care of the rescued elephants, who help make this super smooth aromatic coffee at the Golden Triangle Asian Elephant Foundation in northern Thailand. This artisan coffee has been ten years in the making and is now available at a handful of five-star resorts around Asia. Some of those years were dedicated to ensuring herds of overly-caffeinated elephants weren't galavanting around all night long.
Dining at Krishnarpan in Kathmandu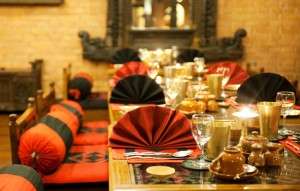 Nepalese cuisine has a lot more depth to it than one first imagines. There's more to it than just Momos and Dal. It's difficult to word it better than their own description: "To spend an evening at Krishnarpan, the Nepali speciality restaurant at Dwarika's Resort, is to take a culinary journey through the fascinating terrains and cuisines of Nepal. Serving the finest of Nepali flavours, Krishnarpan is a slow dining experience reminiscent of the ritual feasts enjoyed by the Kathmandu Valley's Newari community. Meals range from six to twenty-two courses and are prepared using the freshest vegetables from the Dwarika's own farms". A just reward after days of trekking on yak cheese.
Experiencing Inthar Heritage House, Inle Lake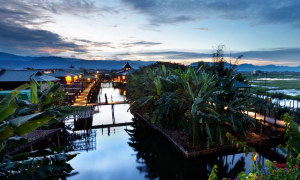 Inle Lake should be included on everyone's Myanmar itinerary. Many may be familiar with postcard images of the leg-rowing fishermen and the stilted huts, but there are a surprising amount of other intriguing experiences to be had around the roadless lake area. Many can be found at Inthar Heritage House. It's part restaurant, part hydroponic garden, part cooking school, and part Burmese cat sanctuary. Inthar Restaurant is one of the few in the area that offers fine Burmese cuisine. A perfect place to try our favorite: Fermented Tea Leaf Salad or Lahpet Thoke. Private cooking lessons are available so you can bring this extraordinary dish back home with you. Instagrammers will love this place, beautiful scenery, food and cats!
Enjoying Mango Mango, Hoi Anh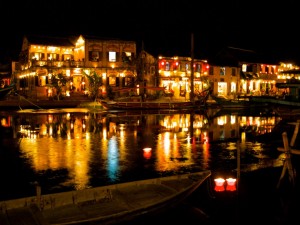 One of Asia's most charming towns, historic Hoi Anh in central Vietnam gained its allure from physically being cut-off from the world for a century when the Thu Bon River silted up in the late 19th century. Since its 'rediscovery' in the 1990s the town has become a popular tourist spot as well as a culinary mecca. Serving a variety of both Vietnamese traditional recipes and Western dishes Mango Mango sits just across the Japanese Bridge on the far side of the river. The restaurant is a perfect place to pass an evening – away from the crowds – enjoying fine food and the spectacular array of lights and lanterns of town reflecting off the river. Say "hi" to owner Chef Duc, our good friend and a cool dude with an amazing life story.
Learning at Tamarind Cooking School, Luang Prabang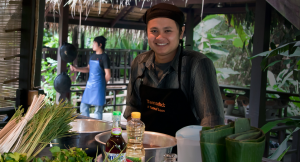 For many travellers, new culinary discoveries are high up on their list of memorable experiences. Joining a local cooking class can be an enjoyable activity that provides a glimpse into a country's essence while gaining knowledge that one can take home. Tamarind Cooking School offers one of the better programs in the region. The class starts with a visit to a local market where the instructors will enlighten you on all those weird and bizarre looking fruit, vegetables, herbs, spices and uncategorizable stuff. Armed with a mortar and pestle you'll create Lao delicacies over open fires in the school's tranquil lakeside pavilions. At the end, all the participants sit around a communal table enjoying their accomplishments while swapping travel stories.
Feeling the Heat at Jay Fai, Bangkok Chinatown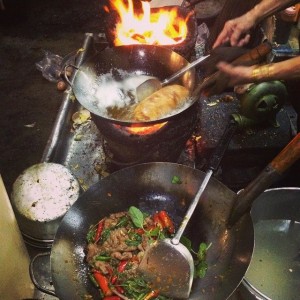 Raan Jay Fai doesn't look like much from the street… nor from inside for that matter. But the septuagenarian owner-cook is legendary for serving up the best street food in all of Bangkok. Its not cheap by street food standards, but still a bargain compared to New York City. The dishes are heaped with fresh seafood and clean, quality ingredients. Her secret may be in the extreme-heat used that both caramelizes the food and burns off excess oil. Cast iron woks clatter over fanned charcoal fires, shooting off flames and clouds of chilli-infused smoke. It's all rather exciting to watch and hear, an unusual culinary experience that will satisfy any gastronome and provide stories for years to come. Open 3 p.m. – 2 a.m. except Saturdays. Smiling Albino's favorite: giant fresh crab omelette!
We hope you found some of these adventures new and inspiring. Have some of your own Southeast Asian culinary bucket list items to add? Let us know in the comments below or reply via social media and we'll check them out. The more unique and remarkable experiences we can offer our hungry clients the better. If you'd like to join one of our day trips or tailored multi-day adventures to experience some of these awesome encounters, enquire here!